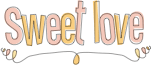 I have fallen hopelessly in love with sugar cookies. There's just something about the light, buttery dough topped with a pillowly layer of not-too-sweet frosting that makes me smile. The opportunities are endless.

They are the perfect treat for a birthday, baby or bridal shower, or just an everyday pick me up.
But my favorite part is decorating them.  Simple circles or squares become faces or gift boxes. I could write a dissertation on cookie cutters. But sometimes, that perfect cutter might not exist, so I freehand a design for what I need.
Next comes the frosting. Thick enough to hold a beautiful design, but soft enough to bite into. From there, layers of edible glitter, sugar crystals or googly eyes take the cookies to a new dimension. And, if needed, you can always draw on them with an edible pen.
Sugar cookies are the prefect way to top off a party and really take a theme one step further. They also make wonderful party favors or birthday gift for any friend with a sweet tooth. Cookies are available in the case with seasonally appropriate designs or you can have some custom created for you by the dozen.
Kelli