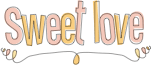 We are just a few weeks out from Christmas and the holiday party season is in full swing! This year, Christmas day falls on a Tuesday, so Sweet Love will be closed Tuesday, Dec. 25 and Wednesday, Dec. 26.
In order to accommodate our clients, we will be open Christmas Eve, from 10 a.m. to 1 p.m. We will only be open for pre-order pick ups, we will not have items available for purchase. If you would like to preorder any items, please do so before Wednesday, December 19th.
For your holiday needs, we will be offering assorted platters!
These platters will include an assortment of the following based on what has been baked fresh on the day you order it:
25% drop cookies (chocolate chip, monster, peanut butter, lemon pillows, chocolate peppermint, mini sugar cookie sandwiches and tiramisu)
20% bars/brownies (fudgie, triple threat brownie, peppermint brownie, cheesecake brownie, yum bar, ninja turtle cookie cup, blondies, coconut almond)
25% cake truffles (chocolate, vanilla, strawberry dipped in chocolate or spiced rum, gingerbread or vanilla dipped in white chocolate)
30% candies (divinity, salted caramels, meringues, fudge bites)
Sizes:
Small: (feeds 5-10, includes 20 pieces)
In pastry box: $18.00
On platter wrapped with box: $23.00
Medium: (feeds 10-15 includes 30 pieces)
In pastry box: $29.50
On platter wrapped with bow: $34.00
Large: (feeds 15-20 includes 45 pieces)
In pastry box: $48.50
On platter wrapped with bow: $54.00
X-Large: (feeds 25-30, includes 65 pieces)
In pastry box: $67.00
On platter wrapped with bow: $71.00
Call 613-7780 to pre-order yours today!