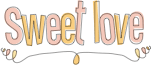 If you're new to Sweet Love, you may not realize that we run with a small crew over here. Actually, 'small' might be a bit of an overstatement. We're down right tiny.
Let me give you some background. before the bakery, I worked in advertising. I was a writer. My job was to be the voice for many businesses. So I like to think I'm good at 'pretending' to be more than I am. And based on general feedback, I'm probably right. I like to throw out 'we' and 'us,' but really those words are 'me' and 'I'.
Currently, my staff consists of myself and a baker who helps twice a week. My husband comes in occasionally to clean up. Starting next year, his services will not be available to the bakery any longer.
I've tried multiple times to bring people on. People to help bake. People to help decorate. People to help run the front of the shop. All of those attempts failed miserably. I don't know if my recipes are too complicated, if my standards are just too high or if there are some other unseen factors at play. Regardless, I feel that the way this bakery will be most successful is if I do everything myself. Quality control at its finest.
So with these things in mind, starting next year, we will go back to being closed on Mondays. I really enjoyed having so many people request that we be open, I love that you guys want to come here! But ultimately, if I am to continue producing the same level of quality, I'm going to need some time away, even if it is to run errands for the bakery.
Can you believe that it's been almost an entire year? I really can't either. But I'm excited to see what the second year of Sweet Love brings for myself and for Little Rock!
Best,
Kelli Marks