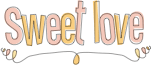 I think giving back to the community is a big deal. I think it's important as an individual but also as a local business. As a business, I can do more for the community on a larger scale than I can as an individual.
Personally, I've been involved with an event called Craws for a Cause. It's an event near and dear to my heart that was started by my best friends to help benefit the NICU at Baptist. Their baby was born at 24 weeks and only weighed 1.5 lbs. Earlier this year, I was a committee chairperson for the event. Next year, Sweet Love will be a sponsor for the event.
Through those friends, I was invited to participate in the Signature Chef's Event and Auction to benefit the March of Dimes. I'm really excited about the opportunity. I will be serving three desserts as well as auctioning off a dessert table package.
The table serves 25 (really, I'm sure it serves more) but it will include the following:
(1) 1 cake (flavor and decoration of your choosing) to feed 25.
(2) Twenty five iced sugar cookies to match the theme of the event.
(3) Twenty five 'cake pops' in coordinating colors and decorations.
(4) Twenty five servings of a 'bar' dessert (your choice of brownie, blondie, yum bar or lemon bar).
(5) Choice of twenty five additional individual desserts of your choosing (items available would include decorated rice krispy treats, chocolate dipped brownies, cookie dough truffles, mini pies or individual cheesecakes).
(6) 1.5 gallons of strawberry lemonade.
That night, I will be serving the following:
1. Chocolate Raspberry Decadence- A chocolate cake soaked in raspberry syrup covered in chocolate ganache.
2. Hint of Lemon Cheesecake- A vanilla bean cheesecake with a layer of lemon curd and a light, sweet icing.
3. Spiced Rum Cake- A rum infused spice cake topped with a cream cheese frosting and decorated with a rum caramel sauce.
I hope you get a chance to come out and visit us at this event. It's a wonderful cause, a chance to bid on some fab auction items as well as an opportunity to sample some treats before Sweet Love opens.
Kelli