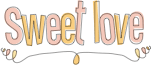 You may have read that Sweet Love is closed, or you drove by and saw the empty store front. It was a difficult decision that I could wax poetically about for days, constantly interrupting myself with,"But also…" until my voice cracked. It was an amazing ride for four years. I got to do things that others will never even dream of doing (Hello, I made a birthday cake for George Takei!) I was a part of so many important days for so many people in Little Rock and all over Arkansas. I help raise money for wonderful causes. I fed people. I made people smile. It was wonderful.
But at the same time, I am a cake decorator, and a baker. I have a business background, but as a perfectionist (read: control freak) I spent so much time doing the actual work, it was hard to spend the time required to do the management that is required to keep a small business in line.
When it comes to food, margins are very low. In 2015, we faced rising food costs- both eggs and butter jumped. I tried to absorb those costs for as long as I could. But eventually, it was just eating into the bottom line too much.
Small business and employees is and always will be a struggle. You want desperately to pay a living wage to your help, but there's that struggle. I had talented staff who could bake up the tastiest of treats, decorate a cake like nobody's business and patiently help the neediest of customer design that perfect cake to honor the recipient. But I demanded a lot of them. Long hours (but not too long, I can't afford overtime), no real benefits to speak of (unless you count all the smooshed cupcakes you could eat). It was hard to find people who were dedicated to the cause but willing to work for minimal wages. It should be stated that I always paid my staff far more than I ever paid myself.
We did well, people liked us, but things like workman's comp insurance, breaking equipment and simply reinvesting in the business took up all the extra money we ever made. It was a constant battle to just keep my head above water. Many food based businesses close because they are unable to pay their taxes. It just happens. I spent four years thinking, "Ok, this is it, we're busier, I'm going to see a substantial profit this month." But then, because we were busier, we used more labor, bought more ingredients. We had already spent that money that we made. And then what was left went to taxes.
A good business manager can well, manage these costs, really keep an eye on these details and save those pennies here, not spend those dollars over there, and eventually, make it profitable. I simply couldn't make that happen. I spent too much time baking and decorating because that was the part I loved.
But what I did make happen was over 300 wedding cakes. And I was part of an ad campaign for Square, I was named as one of the best places to get cake in the south by Taste of the South magazine, I made a cake that was no only shared hundreds of thousands of times, and published in a German food magazine, but was also replicated by an instagram sensation out of clay with over a million followers. I got to meet so many people of Little Rock in person. I got to work with amazing people from wedding coordinators to florists to chefs. It was more fun that I could have ever imagined. I was Sweet Love. I will always look back on my time here as one of the most difficult, but also one of my favorite. I learned more in that four years than I have in all my years of education. I learned about people, food techniques, who to trust and who not, and that a slice of rainbow cake can make anyone smile.
If you've read this far, thanks! I hope that I shed a bit of light on what happened to my Love, but know that I will still be around Little Rock, working on wedding cakes, and now, working for Treatsie as head of digital content (where I will still be baking but now sharing my recipes!) as well as doing the occasional wedding cake. It's been a sweet ride; thanks for coming along.
Best,
Kelli