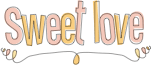 I run into people all over town and inevitably I get asked the question, "So what are you doing now? I see a lot of cake photos…" And then I launch into this longish confusing story where the person listening begins to stop making eye contact and looking more like an animal caught in a trap trying to decide if it's worth gnawing its leg off. I figured I should just write it down and share it so that it's in one place and also if it's too painfully long then you can just click away.
In January 2016, I closed the brick and mortar shop after four years. I started a desk job and it seemed like the perfect fit for me. Alas, the company ran into some trouble and it didn't work out. During 2016 I maintained my business license and LLC and paid taxes because I already had several wedding cakes booked. I worked out of my house for a while. I ramped back up my business and sold more cakes to make up for the lack of a 'real job.'
Toward the end of the year, a conversation on Facebook took an interesting turn when Brian Kearns said he could help me. I was discussing how as a home baker I had to adhere to cottage laws (no cream cheese icings, no cheesecakes, no selling wholesale to restaurants among a few other things). You might know Brian as the chef from Oceans/Arthurs, but now, he is the owner of Simply the Best Catering. They cater tons of weddings each year as the exclusive caterer for the Arkansas Art Center and the Terry House (also owned by the Art Center) as well as other weddings all over central Arkansas. It really was a great fit. I moved into their warehouse and have my own little corner that I can bake in.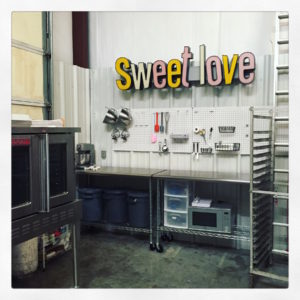 An oven and a mixer, it's really all I need.
With this partnership comes some fun things. I don't have a retail store, so I'm not tied to a location with specific hours where I. Must. Be. There. Regardless if I have something to do or not. And of course, that has its counterpoint of not as fun things like- I don't have a location so I end up doing lots of cake deliveries and parking lot meet ups on the fly.
But back to the fun stuff. Canvas is a really cool restaurant. And I get to provide the desserts there. Not just for their daily menus, but for special events. Like brunch for Easter and Mother's Day. And we're talking all you can eat. Next big holiday that comes up, book reservations at Canvas, you will not be disappointed.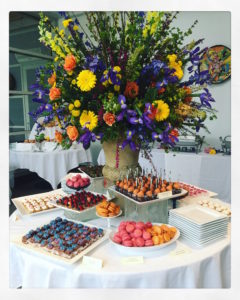 So, what does this mean? Can you place an order? Yes, you can order many of your once loved items from Sweet Love. The best way to do so is to send an email (any of the contact forms on the webpage or to my personal email if you still have that). I would recommend placing orders 2 weeks in advance. Since I no longer have staff, I need ample lead time to juggle everything. My main priority is wedding cakes and larger event cakes. I still offer French macarons (2 dozen minimum order) and some of my drop cookies. Unfortunately, I have stopped offering my iced sugar cookies. The stress on my hands was becoming a problem that would end up with me needing surgery. It's sad, I know, I miss them too. And, if you're just craving something sweet that I've made, get lunch at Canvas and check out dessert! The current Spring menu features key lime pie, chocolate peanut butter mousse, and a lemon raspberry cake and each one is inspired by a work on display at the Art Center.
I am working on a potential project where you might be able to do grab and go items from a location, once that is all ready to go, I'll let everyone know. Also, I've been teaching classes at Eggshells here and there, so make sure to follow them so you can sign up whenever they are available.