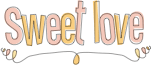 It's that time of year again! Time to gather up the family and celebrate those around us with lots and lots of food.
Oh, and love and thankfulness.
But also food.
Sweet Love is ready to help make your Thanksgiving sweeter and a little bit easier with our ready to serve desserts. While we will make an effort to have several of each of these available, it is best to preorder your Thanksgiving dessert to ensure that we have one waiting for you! Simply call 501.613.7780 to place your order.
We will be offering the following for Thanksgiving:
Cranberry Pecan Bundt cake ($30.00)
A lightly cinnamon cake sprinkled
with fresh cranberries and pecans.
Topped with either a dusting of powdered sugar
or an almond glaze.
Caramel Apple Pie ($15.00)
A 9″ double crust pie filled with a combination
of granny smith and honey crisp apples,
walnuts and a caramel sauce.
A single crust filled with a traditional pumpkin custard.
Pumpkin Latte Cake ($35.00)
A stack of three pumpkin and coffee flavored cakes with just a hint of chocolate, topped with a light whipped frosting and a sprinkle of cinnamon and sugar. Perfect for that evening coffee.
Slab 'o Yum Bars ($30.00)
For fans of the yum bar, this one is a no brainer. This decadent dessert starts with a thick pecan crust, topped with more pecans, pretzels, a layer of house-made salted caramel, and finished with a drizzle of chocolate. Fills a 9×13 pan, sold uncut.
Pumpkin Cheesecake bar slab ($35.00)
A pumpkin infused cheesecake rests atop a crushed pecan crust, the entire thing is drizzled with caramel sauce and more pecans. These bars are denser than a traditional cheesecake and can be eaten by hand. Fills a 9×13 pan, sold uncut.
Chocolate Salted Caramel Tart ($30.00)
A tender chocolate crust filled with a layer of sinful salted caramel then topped with a dark chocolate ganache and a sprinkle of vanilla fleur de sal. This elegant dessert is as sophisticated as it is delicious.
Ninja Turtle Tart ($30.00)
Another house favorite make it's way from the mini to the full size. This 9″ tart starts with a brown butter chocolate chip and pecan base, topped with salted caramel and ganache and sprinkled with crushed pecans.
Cheesecakes- Variety ($40.00)
Our cheesecakes are rich and come in a variety of flavors, including vanilla bean with lemon curd, chocolate goat cheese, turtle, s'mores and chocolate-peanut butter.