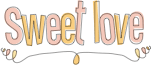 At Sweet Love, I've always tried to make sure that the sweets I offer are as fresh as I can possibly make them. And I try to avoid prepackaged anything. I like fresh food, it just tastes better. I like baking with fresh produce and local ingredients when available. For me, I won't feed you something that I wouldn't eat myself (except maybe bananas, I don't care for them, but you? You might like them). All of my cakes, cookies, bars and pies are made from scratch, using real butter, milk and eggs. You won't find any boxed mixes, frozen cookies or anything labeled 'imitation' in my bakery.
I really try to take this as far as I can. So when you bite into a Banana's Foster cupcake, know that there are fresh bananas that I have sautéed with real butter and brown sugar right before baking them. And that they are topped with my own homemade caramel sauce. The 'Best Cupcake You Have Ever Had' have my own homemade truffles baked right inside.
And when you order a strawberry cake, know that your cake has fresh berries, and not 'strawberry flavoring' in it.

I've canned my strawberries during the summer when they are their sweetest, so that you can have a flavorful, delicious strawberry cake even on a dreary December day.
The only times I don't use local products is when it's better to have it imported. Items like vanilla, chocolate and specialty coffee are purchased from places that are known to have the best.
My ultimate goal is to produce high quality treats that bring a smile to your face.
Kelli