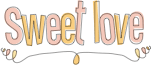 Weddings
When it comes to the wedding, the most important item to the bride is her dress. Next, it's got to be the cake. Why settle for something less than spectacular?

Choose a classic cake, piled high in pristine white layers or a funky jewel-toned creation. It can be round, square, hexagonal, pillow shaped, paisley or a combination. Bring us a photo of something to replicate or let us guide you through a custom creation dreamed up just for your special day.
Our creations are like brides, a thing of beauty – both inside and out. I understand a cake can't just be pretty, it must also be delicious. With our wide variety of flavors, we've definitely got that covered. Do you know why the bride's cake has so many layers? She couldn't pick just one.
Wedding Gallery
Getting married? Shoot us a message.
If you would like to schedule a tasting and consultation, drop us a line, we will get back to you with next steps. Thank you.